MiniProf BT Rail
is a high-precision, lightweight and portable tool for performing fast and reliable cross-sectional rail profile measurements to monitor and analyze the wear of rails. It is equipped with Bluetooth, has an option for cable connection and is available for all type of rails, including grooved rails. Magnetically attached to the top of the railhead, the rail profile and track gauge is measured in one single measurement in less than 5 seconds.
Get instant results

Vertical, horizontal, and angled wear are displayed instantly after each measurement in real-time view. Numerous additional calculations and alignments are included in the powerful Envision software for basic to advanced data handling, analyzing, and reporting.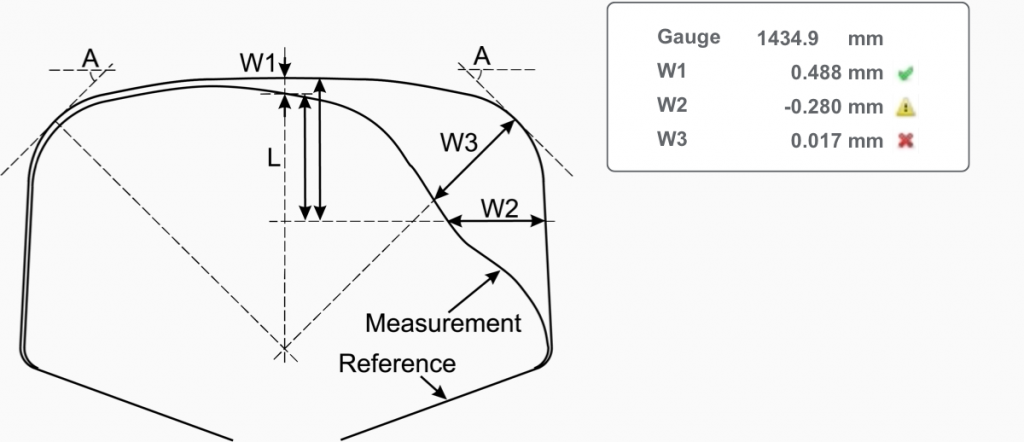 Rail analysis & calculations

The MiniProf Envision software visualizes and calculates residuals and areas automatically and provides special functionalities which is often used for rail grinding analysis. Measurements can be compared in multiple ways and are easily exported to various formats.
GPS Location

The MiniProf Envision software can log GPS locations for each measurement taken and attach onsite photographs to the particular measurement. This is very useful to identify special points of interest along the railroad track.
Fast measuring with schemes

The MiniProf Envision software includes a measuring scheme system to perform large sequences of wheel, rail and brake profiles. The intelligent scheme wizard enables the user to make customized scheme solutions to fit their individual requirements for fast, easy and efficient profile measurements.
Gauge measuring

MiniProf BT Rail is equipped with a telescopic rod using the opposite rail as reference which ensures a correct and stable position and prevents the instrument from tilting. Depending on the system configuration, the track gauge and profile measurement is provided simultaneous in one single measurement.
Super elevation and grade

A tilt sensor measures super elevation and grade automatically depending on system configuration. The values are stored with the measurement and can be displayed at any time. The range of the measured inclination is ± 30 deg.
Scope of delivery

A MiniProf Rail system is delivered with access to the MiniProf Criterion app for Android, the full Envision software package, BT and cable connection, video tutorial guides, software support and a customized and lightweight, rugged transport case with room for the measuring system and accessories for safe storage and transportation. The telescopic rod for connecting to the opposite rail is delivered separately in a special designed rod bag.
Download:
Datasheet
Download:
MiniProf BT Brochure